ProClim-
ProClim- Forum for Climate and Global Change
ProClim- Forum für Klima und Globalen Wandel
ProClim - Forum sur le climat et les changements globaux
https://proclim.scnat.ch/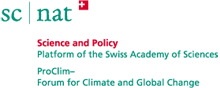 | | |
| --- | --- |
| Type of Structure: | network / framework activity |
| Regional Scope: | national in the area: Switzerland / Europe |
| Parent Organisations: | PF-SAP |
| Child Organisations: | No more in operation: FutureEarth-Switzerland |
| Duration : | 1988 to present |
| Contact Address: | no office contact defined |
General information and objectives
ProClim- is a forum for climate and global change issues, which seeks to facilitate both integrated research activities and the necessary linkages among scientists, policy-makers and the public at home and abroad.
Initiated in 1988, ProClim is an organization of the
Swiss Academy of Sciences (SCNAT)
with a mission to actively promote interdisciplinary scientific collaboration, to assist with the development of coordinated research projects, to ensure links with international global change programs and to facilitate the exchange of information on global change science within Switzerland.
ProClim- is concerned with the full palette of global change issues: the physical climate system, biogeochemical processes and the human dimensions of global change.
In carrying out its mission, ProClim- seeks to ensure an efficient information network. Internationally, ProClim- ensures regular contacts to key global change research programs (e.g., the International Geosphere-Biosphere Program IGBP, the World Climate Research Program WCRP and the Human Dimensions of Global Environmental Change Program IHDP). It also encourages an active participation of Swiss experts in international assessment activities such as the Intergovernmental Panel for Climate Change IPCC.
ProClim holds the secretariate
of the
Advisory Body on Climate Change (OcCC) and of the
Parliamentary Group on Climate Change .

ProClim- serves as interface of the Swiss science community with

International Programs
National Research
Academies
Public & Media
Federal Administration and politics

Therefore, ProClim's Swiss partners include researchers, scientific and research commissions, funding institutions, governmental decision-makers, non-governmental organizations, the media and the public.

A multidisciplinary Steering Committee consisting of experts from the groups mentioned above guides ProClim- in carrying out its mission.






Last update: 5/8/22




Source of data: ProClim- Research InfoSystem (1993-2022)



Go Back